Our Renton Irrigation Pros Are Pop Up Head Experts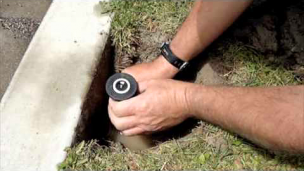 If there was a spokespiece for the underground sprinkler system industry our Renton irrigation team thinks it would be the pop up head. These little guys are the most recognizable feature of any system because they are right out there for everyone to see, doing their jobs without a care in the world. There are three major types of pop up head – the rotary head, the directional spray head and the micro head. Most custom systems are equipped with a combination of all three heads.
The most common pop up head is the rotary type. These heads deliver irrigation through one of two different rotating head systems. The full circle system delivers a 360 degree radial spray that is best centrally located in a large field of grass. The partial circle heads can be adjusted for ranges between 40 and 36 degrees. These heads are great for use in corners where there is hardscaping so you can adjust the spray to only hit area of vegetation. This will prevent you from wasting water irrigating the concrete!
Pop Up Head 101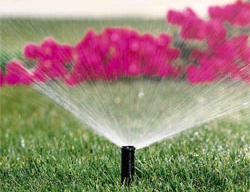 Directional spray heads have become quite popular in recent years. Rain Bird offers a full line of directional heads that are perfect for use in irregular shaped yards. They allow for precision watering so there is little to no waste. These heads can be bought with several nozzle attachments that include full circle, part circle end strip, side strip, center strip, square and adjustable patterns. Using these in areas near planting beds, patios, sidewalks, porches and swimming pools will result in a far more efficient watering system.
Micro heads are almost always used in place of drip lines for spot irrigation. They are great for low pressure applications in specimen beds or gardens. The heads retract into the ground in direct contrast to the irrigation lines that they would replace.
When our Renton irrigation team installs or repairs a sprinkler system, we spend as much time evaluating the pop up heads as we do with the rest of the system combined. A properly fitted system will not only make your lawn look better, it will do it for a lot less money too!